Chill out when the weather's warm and treat yourself to this frozen drink that's a blend of seasonal fresh raspberries and fresh lemon juice.
Nutrition Facts
Raspberry-Lemonade Slushie

Calories
86 Per Serving
Protein
1g Per Serving
Fiber
4g Per Serving
Nutrition Facts
×
Calories
86
Total Fat
0.0 g
Saturated Fat
0.0 g
Trans Fat
0.0 g
Polyunsaturated Fat
0.0 g
Monounsaturated Fat
0.0 g
Cholesterol
0 mg
Sodium
0 mg
Total Carbohydrate
22 g
Dietary Fiber
4 g
Sugars
7 g
Protein
1 g
Dietary Exchanges
1 fruit, 1/2 other carbohydrate
Ingredients
12 ounces raspberries
1 cup sugar substitute
1/2 cup fresh lemon juice
5 cups ice cubes
Directions
In a food processor or blender, process the raspberries, sugar substitute, and lemon juice until the raspberries are puréed.
Add the ice cubes. Process until the mixture is mostly smooth and has a slushie-like consistency. (It's okay if there are a few ice chunks. Don't overmix.)
Divide the slushie into cups. Serve immediately.
Tip: Add Color Swap: You can vary this recipe by using blueberries and lime juice, mangos and pineapple juice, or strawberries and orange juice instead of the raspberries and lemon juice.
Cooking Tip: If your blender is too small for the entire recipe, split the recipe into two batches, adding half the ingredients at a time.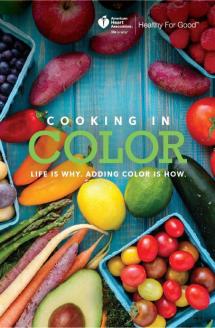 Cooking in Color
This digest-size recipe booklet includes 27 healthful recipes, all including fruits, vegetables, or both. Each recipe is accompanied by a vibrant photograph, and the recipes are organized by color. Also included is a fruit/veggie storage guide and a fruit/veggie equivalency guide.
Shop Heart
Copyright © 2018 American Heart Association, Healthy for Good™. Every purchase helps fund the work of the AHA/ASA.