Nutrition Facts
Red Snapper in Spicy Tomato Sauce

Calories
180 Per Serving
Protein
24g Per Serving
Fiber
2g Per Serving
Nutrition Facts
×
Calories
180
Total Fat
4.5 g
Saturated Fat
0.5 g
Trans Fat
0.0 g
Polyunsaturated Fat
1.0 g
Monounsaturated Fat
2.5 g
Cholesterol
40 mg
Sodium
124 mg
Total Carbohydrate
10 g
Dietary Fiber
2 g
Sugars
6 g
Protein
24 g
Dietary Exchanges
3 lean meat, 2 vegetable
Ingredients
2 tsp. canola oil

OR

2 teaspoon corn oil
1 medium onion (chopped)
1 medium garlic clove (minced)
14.5 oz. canned, no-salt-added, diced tomatoes (undrained)
1 medium fresh jalapeño (seeds and ribs discarded, chopped)
1/4 tsp. sugar
1/4 teaspoon dried oregano (Mexican preferred), crumbled
1/8 tsp. pepper
1 tsp. grated lime zest
2 Tbsp. fresh lime juice
1/4 cup sliced black olives
4 red snapper fillets (about 4 ounces each), rinsed and patted dry
2 Tbsp. chopped, fresh cilantro
Directions
In a large skillet, heat the oil over medium heat, swirling to coat the bottom. Cook the onion and garlic for 2 to 3 minutes, or until soft, stirring occasionally.
Stir in the tomatoes with liquid, jalapeño, sugar, oregano and pepper.
Increase the heat to medium high and bring to a simmer. Reduce the heat and simmer, partially covered, for 10 minutes. (If the mixture gets dry, add 2 to 3 tablespoons water.)
Stir in the lime zest, lime juice and olives.
Place the fish in the sauce. Simmer, covered, for 10 to 13 minutes, or until the fish flakes easily when tested with a fork.
Transfer the fish to a platter. Stir the cilantro into the sauce and immediately spoon the sauce over the fish.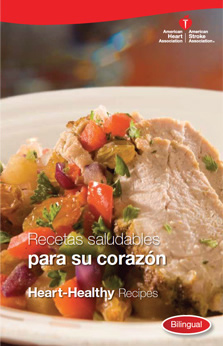 Recetas saludables para su corazon / Heart-Healthy Recipes Bilingual Cookbook
This bilingual edition is a 48-page recipe booklet, including 22 healthy recipes (both in Spanish and English) and four-color. Recipes include snacks, soups, salads, entrées, vegetables and sides, breads and breakfast dishes, and desserts. The booklet provides a nutritional analysis for each recipe, plus tips for making healthy food choices.
Sample Recipes:
Red Snapper in Spicy Tomato Sauce Pargo rojo con salsa de tomate picante
Avocado Salsa Salsa de aguacate
Shop Heart
This recipe is reprinted with permission from Recetas saludables para su corazón/Heart-Healthy Recipes, Copyright © 2013 by the American Heart Association. Published by Krames StayWell, LLC. Look for Recetas saludables para su corazón/Heart-Healthy Recipes at ShopHeart.org.