Simple Cooking with Heart brings you a different kind of Spanish dish that is perfect for hot summer days and a great way to get in extra servings of fruits and veggies.
Nutrition Facts
Cantaloupe Cucumber Gazpacho

Calories
66 Per Serving
Protein
3g Per Serving
Fiber
1g Per Serving
Cost Per Serving
$1.85
Nutrition Facts
×
Calories
66
Total Fat
2.0 g
Saturated Fat
0.5 g
Trans Fat
0.0 g
Polyunsaturated Fat
0.5 g
Monounsaturated Fat
1.5 g
Cholesterol
0 mg
Sodium
25 mg
Total Carbohydrate
10 g
Dietary Fiber
1 g
Sugars
9 g
Protein
3 g
Ingredients
3 cups diced cantaloupe (about 1/2 cantaloupe)
1 small cucumber (coarsely chopped)
1/2 cup plain, fat-free Greek yogurt
1/2 teaspoon fresh ginger (grated)

OR

1/4 teaspoon ground ginger
2 tablespoons fresh basil (coarsely chopped)

OR

1 teaspoon dried basil
2 teaspoons fresh mint (coarsely chopped)

OR

1 teaspoon dried mint
1 small fresh jalapeño pepper (coarsely chopped)
2 teaspoons extra virgin olive oil
1/4 tsp champagne vinegar or white wine vinegar
1 pinch cayenne pepper
Directions
Combine all ingredients in food processor. Puree until very smooth (about 2–3 minutes).
Chill for 30 minutes and serve cold.
Cooking Tip: This soup is best when made fresh and eaten in the same day!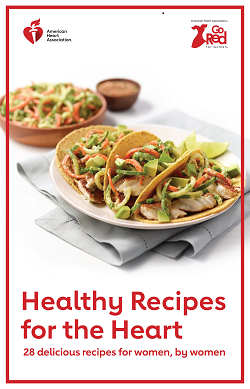 Healthy Recipes for the Heart
This digest-size recipe booklet contains 28 recipes, including Baked Flautas, Carne Asada with Chimichurri Sauce, Macaroni and Cheese with Spinach, Vegetable Migas, Jerk Tilapia Tacos with Zoodle Slaw, and Slow Cooker Thai Chicken Soup; blood pressure info and AHA recommended blood pressure levels; Blood Pressure Measurement Instruction infographic; an inspiring personal story shared by a GR Real Woman; full-color interior and photos; glossy cover; AHA dietary and lifestyle recommendations; Go Red Get Fit info; updated messaging and info about GRFW; and warning signs for heart attack and stroke.
Shop Heart