As more and more canned foods without added salt become available, such as the red kidney beans, pinto beans, and chickpeas (garbanzo beans) used here, it is getting easy to put healthy chili on the table in very little time, with very little effort, and with almost no cleanup involved.
Nutrition Facts
Three-Bean Chili - Delicious Decisions

Calories
411 Per Serving
Protein
23g Per Serving
Fiber
16g Per Serving
Nutrition Facts
×
Calories
411
Total Fat
2.0 g
Saturated Fat
0.0 g
Trans Fat
0.0 g
Polyunsaturated Fat
0.5 g
Monounsaturated Fat
0.0 g
Cholesterol
1 mg
Sodium
264 mg
Total Carbohydrate
71 g
Dietary Fiber
16 g
Sugars
15 g
Protein
23 g
Dietary Exchanges
1 1/2 very lean meat, 2 vegetable, 4 starch
Ingredients
28 oz. no-salt-added, diced, canned tomatoes (undrained)
15.5 oz. canned, no-salt-added red kidney beans (rinsed, drained)
15.5 oz. canned, no-salt-added pinto beans (rinsed, drained)
15.5 oz. canned, no-salt-added chickpeas (garbanzo beans) (rinsed, drained)
12 oz. light beer (or nonalcoholic)
2 Tbsp. chili powder
2 tsp. ground cumin
1/4 tsp. salt
1/2 cup fat-free, plain yogurt
snipped, fresh parsley or cilantro, (optional)
Directions
In a large saucepan, stir together the tomatoes with liquid, beans, chickpeas, beer, chili powder, cumin, and salt. Bring to a boil over high heat. Reduce the heat and simmer for 10 to 15 minutes, or until the desired consistency. Ladle into bowls.
Top each serving with about 2 tablespoons yogurt. Sprinkle with the parsley.
Tip: Serving size 1 3/4 cups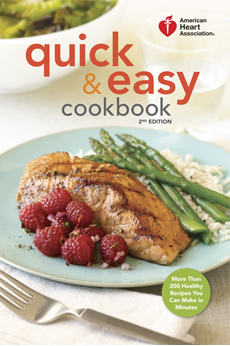 American Heart Association Quick & Easy Cookbook, 2nd edition
With more than 200 recipes, you can quickly and easily get dinner on the table every night of the week. No recipe takes longer than 20 minutes to prepare, and many recipes can be made in 30 minutes—from start to finish.
Sample Recipes:
Grilled Salmon with Mango-Lime Cream Sauce
Purchase:
This recipe is reprinted with permission from American Heart Association Quick & Easy Cookbook, Second Edition, Copyright © 2012 by the American Heart Association. Published by Clarkson Potter/Publishers, a division of Random House, Inc. Available from booksellers everywhere.