Sizzling apples are bathed in a warm, thick, gooey sauce in this super simple recipe. Serve this delectable dessert on its own or topped with a heaping scoop of fat-free plain Greek yogurt.
Nutrition Facts
Warm Cinnamon-Raisin Apples - Delicious Decisions

Calories
172 Per Serving
Protein
2g Per Serving
Fiber
2g Per Serving
Nutrition Facts
×
Calories
172
Total Fat
7.5 g
Saturated Fat
0.5 g
Trans Fat
0.0 g
Polyunsaturated Fat
4.0 g
Monounsaturated Fat
2.0 g
Cholesterol
0 mg
Sodium
4 mg
Total Carbohydrate
28 g
Dietary Fiber
2 g
Sugars
21 g
Protein
2 g
Dietary Exchanges
1 1/2 fat, 2 fruit
Ingredients
1 tablespoon light or dark brown sugar
2 teaspoons cornstarch
1 teaspoon ground cinnamon
1/4 teaspoon ground nutmeg (freshly grated preferred)
1/3 cup 100% apple juice and 2/3 cup 100% apple juice, divided use
2 teaspoons canola or corn oil
2 medium Braeburn, Rome Beauty, or Golden Delicious apples, peeled if desired, thinly sliced, and patted dry
2 tablespoons raisins (golden preferred)
1/4 cup chopped walnuts, dry-roasted
Directions
In a small bowl, stir together the brown sugar, cornstarch, cinnamon, and nutmeg. Stir in 1/3 cup apple juice. Set aside.
Heat a large skillet or wok over high heat. Pour in the oil, swirling to coat the bottom. Cook the apples for 2 to 3 minutes, or until tender and lightly browned, stirring constantly.
Stir in the raisins and the remaining 2/3 cup apple juice. Stir in the brown sugar mixture. Cook for 4 to 6 minutes, or until the sauce is thickened, stirring constantly. Just before serving, sprinkle with the walnuts.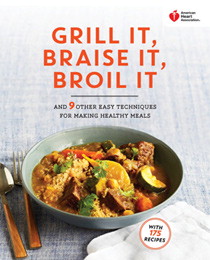 Grill It, Braise It, Broil It Cookbook
The 175 recipes, organized by 12 cooking techniques, vary to fit every lifestyle. Whether you want something you can set and forget (in the slow cooker), cook in just minutes (broil, steam, or grill), cook quickly without heating up the kitchen (microwave), or cook traditionally in ways that will fill your house with delectable aromas (baking, roasting, braising, stewing), this cookbook will be your go-to resource.
Sample Recipes:
Pork Tenderloin Stuffed with Spinach
Purchase
This recipe is reprinted from AMERICAN HEART ASSOCIATION GRILL IT, BRAISE IT, BROIL IT. Copyright ©2015 by American Heart Association. Photos by Lucy Schaeffer. Published by Clarkson Potter/Publishers, an imprint of Penguin Random House LLC. Available from booksellers everywhere.