Using the tenderloin rather than the loin reduces the roasting time without losing any slow-cooked flavor.
Nutrition Facts
Pork Tenderloin with Roasted Apple - Delicious Decisions

Calories
232 Per Serving
Protein
25g Per Serving
Fiber
2g Per Serving
Nutrition Facts
×
Calories
232
Total Fat
8.5 g
Saturated Fat
2.0 g
Trans Fat
0.0 g
Polyunsaturated Fat
1.5 g
Monounsaturated Fat
4.5 g
Cholesterol
75 mg
Sodium
269 mg
Total Carbohydrate
14 g
Dietary Fiber
2 g
Sugars
10 g
Protein
25 g
Dietary Exchanges
1 fruit, 3 lean meat
Ingredients
Cooking spray
1 tsp. chopped, fresh rosemary (divided use)
1/2 tsp. chopped, fresh rosemary (divided use)
1/2 tsp. garlic powder
1/2 tsp. pepper (divided use)
1/8 tsp. pepper (divided use)
1/4 tsp. salt (divided use)
1/8 tsp. salt (divided use)
1 lb. pork tenderloin (all visible fat discarded)
1 tsp. canola or corn oil
2 tsp. canola or corn oil, divided use
1 medium to large tart green apple (about 8 ounces), such as Granny Smith, cut into 8 wedges
1 medium onion, cut into 8 wedges
2 tsp. sugar
Directions
Preheat the oven to 425°F. Line a rimmed baking sheet with aluminum foil. Lightly spray the foil with cooking spray.
In a small bowl, stir together 1 teaspoon rosemary, the garlic powder, 1/2 teaspoon pepper, and 1/4 teaspoon salt. Sprinkle all over the pork. Using your fingertips, gently press the mixture so it adheres to the pork.
In a large nonstick skillet, heat the oil over medium-high heat, swirling to coat the bottom. Cook the pork for 4 minutes, or until richly browned on the bottom. Turn over. Cook for 2 minutes, or until golden brown. Transfer to the baking sheet.
Roast for 15 minutes. Arrange the apple and onion around the pork. Lightly spray the apple and onion with cooking spray. Sprinkle the sugar over the apple and onion.
Roast for 5 minutes, or until the pork registers 145°F on an instant-read thermometer and is slightly pink in the center, and the apple and onion are tender-crisp.
Transfer the pork to a cutting board. Let stand for 3 minutes, or until the desired doneness. Cut crosswise into slices.
Keeping the apple mixture on the foil, stir in the remaining 2 teaspoons oil, 1/2 teaspoon rosemary, 1/8 teaspoon pepper, and 1/8 teaspoon salt. Serve the apple mixture with the pork.
Tip:
Serving size 3 ounces pork and 1/2 cup apple mixture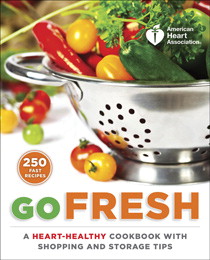 This recipe is reprinted with permission from American Heart Association Go Fresh. Copyright © 2014 by the American Heart Association. Published by Clarkson Potter/Publishers, a division of Random House, Inc. Available from booksellers everywhere.