Serve this spicy dish with warm corn tortillas and wedges of ice-cold watermelon. You can adjust the heat level by cutting back on the jalapeño and chili powder.

Nutrition Facts
Southwestern Chicken - Delicious Decisions

Calories
207 Per Serving
Protein
26g Per Serving
Fiber
3g Per Serving
Nutrition Facts
×
Calories
207
Total Fat
5.0 g
Saturated Fat
1.0 g
Trans Fat
0.0 g
Polyunsaturated Fat
1.0 g
Monounsaturated Fat
2.0 g
Cholesterol
73 mg
Sodium
265 mg
Total Carbohydrate
14 g
Dietary Fiber
3 g
Sugars
5 g
Protein
26 g
Dietary Exchanges
1 1/2 starch, 1 vegetable, 3 lean meat
Ingredients
1 1/2 cups orange, red, or yellow bell pepper strips, or a combination
2 tsp. seeded, minced, fresh jalapeño
1/2 cup diagonally sliced green onions
1/3 cup all-purpose flour
1 1/2 tsp. chili powder and 1 tsp. chili powder, divided use
1/4 tsp. pepper and 1/4 pepper, divided use
1/4 tsp. salt
6 boneless, skinless chicken breast halves, all visible fat discarded, (about 4 oz. each), flattened to 1/4-inch thickness
canola or corn oil and 1 tsp. canola or corn oil
28 oz. no-salt-added, canned, whole tomatoes (undrained)
1 tsp. grated lime zest
Directions
In a large nonstick skillet, cook the bell pepper and jalapeño over medium-high heat for 4 to 5 minutes, stirring occasionally.
Stir in the green onions. Cook for 1 minute. Transfer to a plate. Set aside.
In a medium shallow dish, stir together the flour, 1 1/2 teaspoons chili powder,1/4 teaspoon pepper, and salt. Dip one piece of chicken in the mixture, turning to coat and gently shaking off any excess. Transfer to a plate. Repeat with the remaining chicken.
In a large nonstick skillet, heat 1 teaspoon oil over medium-high heat, swirling to coat the bottom. Cook half the chicken for 3 to 4 minutes on each side, or until lightly brown on both sides. Transfer to the plate with the bell pepper mixture. Repeat with the remaining 1 teaspoon oil and chicken.
Pour the tomatoes with liquid into the skillet, breaking up the tomatoes with a spoon. Stir in the remaining 1 teaspoon chili powder and remaining 1/4 teaspoon pepper. Reduce the heat and simmer for 3 to 4 minutes.
Stir in the lime zest, bell pepper mixture, and chicken. Increase the heat to medium. Cook for 5 to 6 minutes, or until the chicken is no longer pink in the center and the mixture is heated through.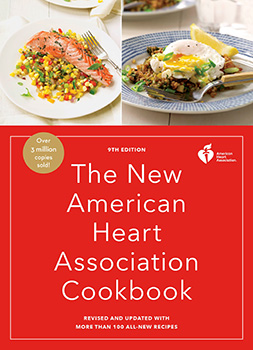 The New American Heart Association Cookbook, 9th Edition
The American Heart Association's flagship cookbook is back and better than ever. This latest edition, including 800 recipes from appetizers to desserts--and everything in between--is the ultimate cook's resource.
Sample Recipes:
Turkey Breast with Chicken Mole
Grilled Salmon with Cilantro Sauce
Purchase:
This recipe is reprinted with permission from The New American Heart Association Cookbook, 9th Edition. Copyright © 2017 by the American Heart Association. Published by Harmony Books, an imprint of Penguin Random House LLC. Available from booksellers everywhere.