Sweet and Crunchy Trail Mix - Delicious Decisions
Just combine and shake to fix this quick, portable snack. The mix provides complex carbs and protein for both short- and long-term energy.
Ingredients
6 Servings

140
Calories per serving

0.5 g
Sat. Fat per serving

73 mg
Sodium per serving
View Full Nutrition Info
collapse
Quick Tips

Tip: Serving size 1/2 cup trail mix



Tip: Have the kids measure everything, seal the bag, and shake it. Go one step further and have them fill snack-size resealable plastic bags with single portions to take to school or to have on hand so they can grab a quick snack during the week.
Directions
Tip: Click on step to mark as complete.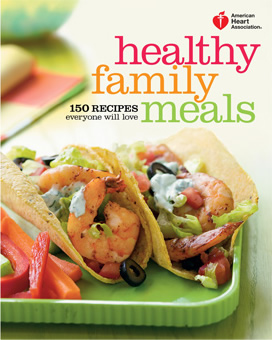 Like the Recipe? It and Many Others are Available in the Cookbook Below:
American Heart Association Healthy Family Meals
Calories
140
Total Fat
5.5 g
Saturated Fat
0.5 g
Trans Fat
0.0 g
Polyunsaturated Fat
1.5 g
Monounsaturated Fat
3.5 g
Cholesterol
0 mg
Sodium
73 mg
Total Carbohydrate
19 g
Dietary Fiber
4 g
Sugars
9 g
Protein
5 g
Dietary Exchanges
1 fat, 1 1/2 starch
Please sign in to add recipes to your Recipe Box.
Log In