Grilled Salmon with Mango-Lime Cream Sauce - Delicious Decisions
Ingredients
4 Servings

168
Calories per serving

0.5 g
Sat. Fat per serving

170 mg
Sodium per serving
View Full Nutrition Info
collapse
Quick Tips

Cooking Tip: On Mangoes - Check the refrigerated area of the produce section for sliced mangoes in jars. They save on time and are less messy.
Directions
Tip: Click on step to mark as complete.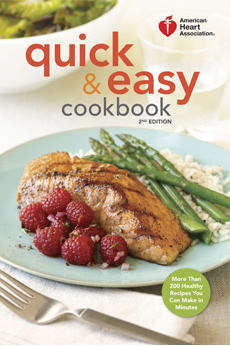 Like the Recipe? It and Many Others are Available in the Cookbook Below:
American Heart Association Quick & Easy Cookbook, 2nd Edition
Calories
168
Total Fat
4.5 g
Saturated Fat
0.5 g
Trans Fat
0.0 g
Polyunsaturated Fat
1.5 g
Monounsaturated Fat
1.0 g
Cholesterol
67 mg
Sodium
170 mg
Total Carbohydrate
5 g
Dietary Fiber
0 g
Sugars
3 g
Protein
26 g
Dietary Exchanges
3 lean meat, 1/2 other carbohydrate
Please sign in to add recipes to your Recipe Box.
Log In