Raspberry-Lemonade Slushie
Chill out when the weather's warm and treat yourself to this frozen drink that's a blend of seasonal fresh raspberries and fresh lemon juice.
Ingredients
4 Servings

86
Calories per serving

0.0 g
Sat. Fat per serving

0 mg
Sodium per serving
View Full Nutrition Info
collapse
Quick Tips

Tip: Add Color Swap: You can vary this recipe by using blueberries and lime juice, mangos and pineapple juice, or strawberries and orange juice instead of the raspberries and lemon juice.

Cooking Tip: If your blender is too small for the entire recipe, split the recipe into two batches, adding half the ingredients at a time.
Directions
Tip: Click on step to mark as complete.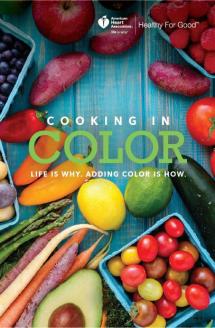 Like the Recipe? It and Many Others are Available in the Cookbook Below:
Purchase Cooking in Color
Copyright © 2018 American Heart Association, Healthy For GoodTM, heart.org/healthyforgood Every purchase helps fund the work of the AHA/ASA.
Calories
86
Total Fat
0.0 g
Saturated Fat
0.0 g
Trans Fat
0.0 g
Polyunsaturated Fat
0.0 g
Monounsaturated Fat
0.0 g
Cholesterol
0 mg
Sodium
0 mg
Total Carbohydrate
22 g
Dietary Fiber
4 g
Sugars
7 g
Protein
1 g
Dietary Exchanges
1 fruit, 1/2 other carbohydrate
Please sign in to add recipes to your Recipe Box.
Log In