Any fruit can be dunked into this American, no-cook yogurt dip – blueberries, strawberries, clementine segments, pear slices, etc. from the Simple Cooking with Heart program.
Nutrition Facts
Sliced Fruit with Honey-Vanilla Yogurt Dip

Calories
194 Per Serving
Protein
9g Per Serving
Fiber
3g Per Serving
Cost Per Serving
$2.21
Nutrition Facts
×
Calories
194
Total Fat
0.4 g
Saturated Fat
0.1 g
Trans Fat
0.0 g
Polyunsaturated Fat
0.1 g
Monounsaturated Fat
0.0 g
Cholesterol
0 mg
Sodium
35 mg
Total Carbohydrate
42 g
Dietary Fiber
3 g
Sugars
32 g
Protein
9 g
Dietary Exchanges
2 1/2 fruit, 1/2 fat-free milk
Ingredients
2 cups green or red grapes (halved, if desired)
2 medium bananas, peeled and sliced (about 2 cups banana slices)
1 red or green apple, cored, thinly sliced
1 1/2 cups plain, fat-free Greek yogurt
1 Tbsp. honey
1 tsp. vanilla extract
Directions
Chop and prepare each fruit: halve the grapes (if desired); peel and slice the bananas; and slice the apple. Arrange on a large plate or platter.
In a small bowl, add yogurt, honey, and vanilla extract. Stir together until combined. To serve, dip fruit into the yogurt.
Cooking Tip: While the Greek yogurt has a thicker consistency that is perfect for a dip, any plain yogurt can be substituted—just expect a slightly thinner dip.
Keep it Healthy: Flavored yogurts are packed with extra sugar and preservatives. Skip those and make your own at home. Just stir in any natural sweetener like honey or maple syrup along with a handful of chopped fruit.


Tip: Taste-tests have shown no taste difference between pure vanilla extract and imitation vanilla. Imitation vanilla is a lot cheaper too, so it's an excellent option.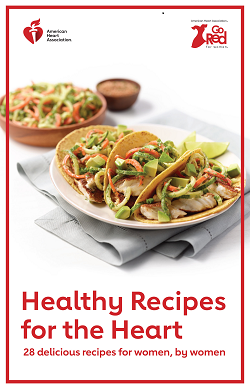 Healthy Recipes for the Heart
This digest-size recipe booklet contains 28 recipes, including Baked Flautas, Carne Asada with Chimichurri Sauce, Macaroni and Cheese with Spinach, Vegetable Migas, Jerk Tilapia Tacos with Zoodle Slaw, and Slow Cooker Thai Chicken Soup; blood pressure info and AHA recommended blood pressure levels; Blood Pressure Measurement Instruction infographic; an inspiring personal story shared by a GR Real Woman; full-color interior and photos; glossy cover; AHA dietary and lifestyle recommendations; Go Red Get Fit info; updated messaging and info about GRFW; and warning signs for heart attack and stroke.
Shop Heart