An aromatic pesto accented with black olives and citrus makes the flavor profile of this dish more sophisticated than your average broiled salmon. Not only is it packed with salmon's heart-healthy omega 3s, it's also super fast to cook.
Nutrition Facts
Broiled Salmon with Olive Pesto - Delicious Decisions

Calories
205 Per Serving
Protein
25g Per Serving
Fiber
1g Per Serving
Nutrition Facts
×
Calories
205
Total Fat
10.5 g
Saturated Fat
1.5 g
Trans Fat
0.0 g
Polyunsaturated Fat
2.5 g
Monounsaturated Fat
4.5 g
Cholesterol
53 mg
Sodium
149 mg
Total Carbohydrate
3 g
Dietary Fiber
1 g
Sugars
1 g
Protein
25 g
Dietary Exchanges
3 lean meat
Ingredients
Cooking spray
1 cup loosely packed, fresh basil
2 tablespoon pine nuts
2 tablespoon sliced black olives
1 teaspoon grated orange zest
2 tablespoon fresh orange juice
1 tablespoon light mayonnaise
2 teaspoon olive oil
2 medium garlic cloves (minced)
4 salmon fillets (about 4 ounces each), rinsed, patted dry
Directions
Preheat the broiler. Lightly spray the broiler pan with cooking spray.
In a food processor or blender, process the remaining ingredients except the fish for 15 to 20 seconds, or until slightly chunky.
Place the fish on the broiler pan. Using a pastry brush or spoon, spread the basil mixture over both sides of the fish.
Broil the fish about 4 inches from the heat for 5 to 6 minutes. Turn over the fish. Broil for 4 to 5 minutes, or until the desired doneness.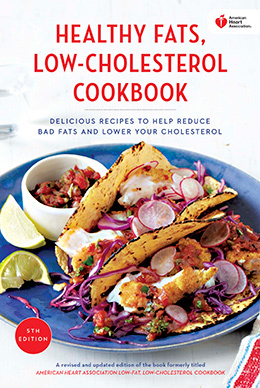 Healthy Fats, Low-Cholesterol Cookbook
The cookbook offers more than 200 dishes, which range from snacks to desserts. It also includes the American Heart Association's healthy lifestyle recommendations and strategies on healthy shopping, cooking, and dining out. You'll also find information on heart disease and stroke, including their risk factors and warning signs.
Sample Recipes:
Broiled Salmon with Olive Pesto
Trail Mix with Cocoa-Dusted Almonds
Purchase:
This recipe is reprinted from AMERICAN HEART ASSOCIATION HEALTHY FATS, LOW-CHOLESTEROL COOKBOOK, Fifth Edition. Copyright ©2015 by American Heart Association. Cover photo by Lucy Schaeffer. Published by Harmony Books, an imprint of Penguin Random House LLC. Available from booksellers everywhere.