Need an energy boost before your workout? Just grab a handful of this sweet-and-crunchy fuel on your way to the gym or soccer practice.
Nutrition Facts
Trail Mix with Cocoa-Dusted Almonds - Delicious Decisions

Calories
166 Per Serving
Protein
5g Per Serving
Fiber
3g Per Serving
Nutrition Facts
×
Calories
166
Total Fat
11.0 g
Saturated Fat
1.0 g
Trans Fat
0.0 g
Polyunsaturated Fat
4.5 g
Monounsaturated Fat
4.0 g
Cholesterol
0 mg
Sodium
3 mg
Total Carbohydrate
17 g
Dietary Fiber
3 g
Sugars
12 g
Protein
5 g
Dietary Exchanges
1 lean meat, 1 fruit, 1 1/2 fat
Ingredients
2 Tbsp. unsweetened cocoa powder
2 tsp. brown sugar
1/2 cup whole almonds
1 tsp. honey
1/2 tsp. vanilla extract
1/2 cup dried apricots (quartered)
1/2 cup dates (halved)
1/2 cup unsalted walnut halves (dry-roasted)
1/2 cup unsalted peanuts (dry-roasted)
1/4 cup unsalted sunflower seeds (dry-roasted)
1/4 cup raisins
Directions
In a small bowl, stir together the cocoa powder and brown sugar. In a small skillet, heat the almonds, honey, and vanilla over very low heat for 1 to 2 minutes, or until the honey has melted and the almonds are sticky, stirring constantly. Add the almonds to the cocoa powder mixture, stirring to coat well. Pour the almonds into a fine-mesh sieve, shaking gently to remove the excess coating.
In a large bowl, stir together the almonds and the remaining ingredients. Transfer to a tightly covered container. Store in a cool, dry place at room temperature for up to one week.
Cooking Tip: To dry-roast a large amount of nuts or seeds at one time, place them in a shallow baking dish. Roast them at 350°F for 10 to 15 minutes, stirring occasionally. You can freeze them in an airtight container or resealable plastic freezer bag so they can be ready at a moment's notice. You don't even need to thaw them before using them.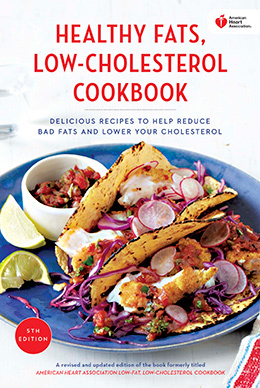 Healthy Fats, Low-Cholesterol Cookbook
The cookbook offers more than 200 dishes, which range from snacks to desserts. It also includes the American Heart Association's healthy lifestyle recommendations and strategies on healthy shopping, cooking, and dining out. You'll also find information on heart disease and stroke, including their risk factors and warning signs.
Sample Recipes:
Broiled Salmon with Olive Pesto
Trail Mix with Cocoa-Dusted Almonds
Purchase:
This recipe is reprinted from AMERICAN HEART ASSOCIATION HEALTHY FATS, LOW-CHOLESTEROL COOKBOOK, Fifth Edition. Copyright ©2015 by American Heart Association. Cover photo by Lucy Schaeffer. Published by Harmony Books, an imprint of Penguin Random House LLC. Available from booksellers everywhere.