This intricately flavored dish brings the warmth and intensity of Indian cuisine to your table. Serve over basmati rice so you can savor all the deep orange sauce, speckled with vibrant green cilantro.
Nutrition Facts
Creamy Chicken Curry - Delicious Decisions

Calories
208 Per Serving
Protein
21g Per Serving
Fiber
2g Per Serving
Nutrition Facts
×
Calories
208
Total Fat
7.0 g
Saturated Fat
1.0 g
Trans Fat
0.0 g
Polyunsaturated Fat
1.5 g
Monounsaturated Fat
3.5 g
Cholesterol
55 mg
Sodium
335 mg
Total Carbohydrate
16 g
Dietary Fiber
2 g
Sugars
8 g
Protein
21 g
Dietary Exchanges
2 vegetable, 1/2 starch, 2 1/2 lean meat
Ingredients
2 Tbsp canola or corn oil
1 medium onion (finely chopped)
2 teaspoon garlic powder
6 ounces canned, no-salt-added tomato paste
2 teaspoon ground cumin
1 1/2 teaspoon ground coriander
1/2 teaspoon ground turmeric
1/2 teaspoon cayenne
1 pound boneless, skinless chicken breasts (all visible fat discarded, cut into bite-size pieces)
1 cup fat-free sour cream
1/2 teaspoon salt
1 medium fresh jalapeño (seeds and ribs discarded, chopped)
1 tablespoon minced, peeled gingerroot
1/2 cup finely chopped cilantro
1 teaspoon garam masala (optional)
Directions
In a large skillet, heat the oil over medium-high heat, swirling to coat the bottom. Cook the onion for about 3 minutes, or until soft, stirring frequently.
Stir in the garlic powder. Cook for 1 minute, stirring constantly.
Stir in the tomato paste, cumin, coriander, turmeric, and cayenne. Cook for 1 minute, stirring occasionally.
Stir in the chicken, sour cream, and salt. If the mixture seems dry, gradually stir in a little water as needed. Bring to a boil. Reduce the heat and simmer for 15 minutes, stirring occasionally.
Stir in the jalapeño and gingerroot. Cook for 10 minutes, or until the chicken is no longer pink in the center.
Just before serving, sprinkle with the cilantro and garam masala.
Cooking Tip: Dry-roasted spices are ground together to make the distinctive blend known as garam masala. It may include 10 to 12 different spices, such as cumin, coriander, cloves, cardamom, black pepper, and mace, and is usually added to food near the end of cooking or right before the dish is served to enhance the complexity of flavor.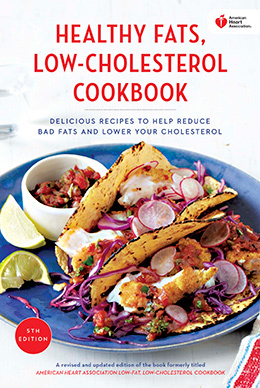 Healthy Fats, Low-Cholesterol Cookbook
The cookbook offers more than 200 dishes, which range from snacks to desserts. It also includes the American Heart Association's healthy lifestyle recommendations and strategies on healthy shopping, cooking, and dining out. You'll also find information on heart disease and stroke, including their risk factors and warning signs.
Sample Recipes:
Broiled Salmon with Olive Pesto
Trail Mix with Cocoa-Dusted Almonds
Purchase:
This recipe is reprinted from AMERICAN HEART ASSOCIATION HEALTHY FATS, LOW-CHOLESTEROL COOKBOOK, Fifth Edition. Copyright ©2015 by American Heart Association. Cover photo by Lucy Schaeffer. Published by Harmony Books, an imprint of Penguin Random House LLC. Available from booksellers everywhere.