This addictive American cabbage salad side dish recipe from Simple Cooking with Heart has a zing from jalapenos along with a double-duty peanut power - a peanut butter-infused dressing and a sprinkling of peanuts throughout it. Serve for dinner or bring along for a cookout.
Nutrition Facts
Crunchy Cabbage Salad with Spicy Peanut Dressing

Calories
123 Per Serving
Protein
5g Per Serving
Fiber
4g Per Serving
Cost Per Serving
$1.02
Nutrition Facts
×
Calories
123
Total Fat
6.3 g
Saturated Fat
1.0 g
Trans Fat
0.0 g
Polyunsaturated Fat
1.8 g
Monounsaturated Fat
3.0 g
Cholesterol
0 mg
Sodium
169 mg
Total Carbohydrate
12 g
Dietary Fiber
4 g
Sugars
7 g
Protein
5 g
Dietary Exchanges
1/2 other carbohydrate, 1 fat, 1 vegetable
Ingredients
3 tablespoon reduced-fat, smooth peanut butter
4 tablespoon cider vinegar
1 1/2 tablespoon water
2 teaspoon honey
1/4 teaspoon salt
1/8 tablespoon ground black pepper
1 jalapeño (finely chopped)
1 red or green bell pepper (quartered, thinly sliced)
3 green onions or scallions, chopped (about ½ cup)
1 (14-ounce) bag classic cole slaw mix
1/4 cup chopped, unsalted peanuts
Directions
In a large bowl, add peanut butter, vinegar, hot water, honey, salt, and pepper. Finely chop the jalapeno, seeding it for a less spicy salad. Add jalapeno into the bowl. Use a whisk or fork to combine until dressing is smooth.
Quarter the bell pepper, removing and discarding the seeds. Thinly slice the bell pepper and chop the scallions. Add both into the bowl, along with the cole slaw mix.
Use tongs or a spatula to fully combine the vegetables with the dressing. Chop peanuts and sprinkle over the salad. Let sit a few minutes for flavors to absorb. Serve.
Cooking Tip: Jalapenos vary tremendously in spiciness. It's always safer to take a little taste of the jalapeno before adding the entire pepper. Also, remove the seeds to lessen the spiciness.
Keep it Healthy: This cabbage salad is like a slaw without the mayo. A vinegar and oil base instead of mayonnaise can also be used to trim the calories of other picnic salads like potato salad and macaroni salad.
Tip: Serving size 1 cup
Tip: To substitute fresh vegetables for the cole slaw mix, use 1 cup grated carrots plus 5 cups thinly sliced cabbage.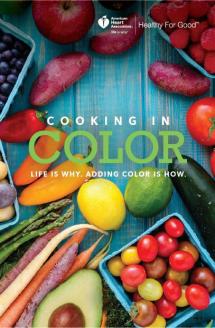 Cooking in Color
This digest-size recipe booklet includes 27 healthful recipes, all including fruits, vegetables, or both. Each recipe is accompanied by a vibrant photograph, and the recipes are organized by color. Also included is a fruit/veggie storage guide and a fruit/veggie equivalency guide.
Shop Heart
Copyright © 2018 American Heart Association, Healthy for Good™. Every purchase helps fund the work of the AHA/ASA.