This vinegar-based, no-mayo salad is bathed in a sweet, creamy peanut butter and honey dressing — the perfect complement to the heat of the jalapeño and bitterness of the raw cabbage.
Nutrition Facts
Crunchy Cabbage Salad with Spicy Peanut Dressing

Calories
123 Per Serving
Protein
5g Per Serving
Fiber
4g Per Serving
Cost Per Serving
$1.02
Nutrition Facts
×
Calories
123
Total Fat
6.5 g
Saturated Fat
1.0 g
Trans Fat
0.0 g
Polyunsaturated Fat
2.0 g
Monounsaturated Fat
3.0 g
Cholesterol
0 mg
Sodium
169 mg
Total Carbohydrate
12 g
Dietary Fiber
4 g
Sugars
7 g
Protein
5 g
Dietary Exchanges
1 vegetable, 1 fat, 1/2 other carbohydrate
Ingredients
1/4 cup cider vinegar
3 tablespoons smooth low-sodium peanut butter
1 medium fresh jalapeño, seeds and ribs discarded, finely chopped
1 1/2 tablespoons hot water
2 teaspoons honey
1/4 teaspoon salt
1/8 teaspoon pepper, freshly ground preferred
1 14-ounce bag classic coleslaw mix
1 medium red or green bell pepper, thinly sliced
3 medium green onions, chopped (about ½ cup)
1/4 cup chopped unsalted peanuts
Directions
In a large bowl, whisk together the vinegar, peanut butter, jalapeño, water, honey, and salt until combined.
Add the coleslaw mix, bell pepper, and green onions to the dressing.
Using tongs, toss the vegetables together with the dressing to coat.
Let stand for several minutes so the flavors blend. Sprinkle with the peanuts.
Cooking Tip: Because jalapeños can vary in spiciness, you may want to take a tiny bite of the jalapeño before you add it to a dish. If it tastes particularly spicy, use less if you prefer. If you like more heat, include the seeds and ribs.
Cooking Tip: You can substitute 1 cup grated carrots and 5 cups thinly sliced cabbage for the coleslaw mix.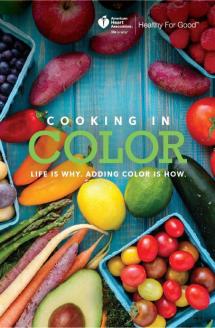 Cooking in Color
This digest-size recipe booklet includes 27 healthful recipes, all including fruits, vegetables, or both. Each recipe is accompanied by a vibrant photograph, and the recipes are organized by color. Also included is a fruit/veggie storage guide and a fruit/veggie equivalency guide.
Shop Heart
Copyright © 2018 American Heart Association, Healthy for Good™. Every purchase helps fund the work of the AHA/ASA.