This frozen yogurt bark studded with fruit is a fun treat for kids and adults alike. Just note to eat it as soon as pieces are removed from the freezer as it melts in about 15 minutes.
Nutrition Facts
Frozen Yogurt Bark

Calories
70.3 Per Serving
Protein
4.2g Per Serving
Fiber
0.8g Per Serving
Nutrition Facts
×
Calories
70.3
Total Fat
2.0 g
Saturated Fat
0.7 g
Trans Fat
0.0 g
Polyunsaturated Fat
0.3 g
Monounsaturated Fat
0.7 g
Cholesterol
2.8 mg
Sodium
14.7 mg
Total Carbohydrate
9.7 g
Dietary Fiber
0.8 g
Sugars
8.6 g
Protein
4.2 g
Dietary Exchanges
1/2 other carbohydrate, 1/2 lean meat
Ingredients
1 1/2 cups 2 percent low-fat plain Greek yogurt
2 tablespoons honey
2 tablespoons chopped, unsalted almonds
1/2 cup chopped mango
1/4 cup blackberries or raspberries, chopped if large
1/2 cup blueberries
Directions
In a medium bowl, add yogurt and honey. Mix together to combine.
Line a 9-inch by 13-inch baking dish with parchment paper. Use a spatula or knife to spread the yogurt as thin as possible over the entire bottom of the dish.
Add the chopped nuts over the top of the yogurt. Use your fingers to slightly press them into the yogurt. Peel the mango, cutting the slices around the pit. Finely chop the mango, along with the berries, if they are larger than bite-sized and need chopping. Top the yogurt with the fruit—add as much fruit as will fit over the top. Again, slightly press fruit into the yogurt.
Cover with plastic wrap or foil and place in the freezer overnight.
When ready to serve, lift the parchment paper from the baking dish onto a cutting board. Use your hands to break bark apart into pieces (even by slightly banging the bark onto the cutting board). Serve.
Keep remaining pieces wrapped in parchment paper and sealed in a large Ziploc bag in the freezer for up to 1 month.
Cooking Tip: The same amount of maple syrup or simple syrup can also be used to sweeten the bark in place of honey.
Keep it Healthy: Most fruits can be used for the bark, from pomegranate seeds in the fall to diced peaches in the summer.
Tip: Let your kids come up with more ideas on what to use to top the bark—shredded unsweetened coconut, sunflower or pumpkin seeds, any type of nut, or even a tablespoon of chocolate chips. If desired, mix 1/2 cup chopped fruit into the yogurt before adding the baking dish and then top again with fruit for a different spin on the same concept.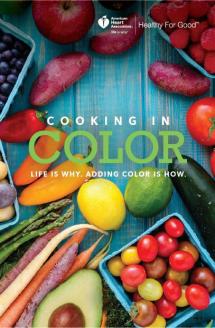 Cooking in Color
This digest-size recipe booklet includes 27 healthful recipes, all including fruits, vegetables, or both. Each recipe is accompanied by a vibrant photograph, and the recipes are organized by color. Also included is a fruit/veggie storage guide and a fruit/veggie equivalency guide.
Shop Heart
Copyright © 2018 American Heart Association, Healthy for Good™. Every purchase helps fund the work of the AHA/ASA.