This frozen delight, studded with fresh summer fruit, is delicious and healthy. With calories coming in under 100 and very little added sugar, it's a cool heart-healthy dessert on a hot summer's day.
Nutrition Facts
Frozen Yogurt Bark

Calories
70 Per Serving
Protein
4g Per Serving
Fiber
1g Per Serving
Nutrition Facts
×
Calories
70
Total Fat
2.0 g
Saturated Fat
0.5 g
Trans Fat
0.0 g
Polyunsaturated Fat
0.5 g
Monounsaturated Fat
0.5 g
Cholesterol
3 mg
Sodium
15 mg
Total Carbohydrate
10 g
Dietary Fiber
1 g
Sugars
9 g
Protein
4 g
Dietary Exchanges
1/2 other carbohydrate, 1/2 lean meat
Ingredients
1 1/2 cups low-fat plain Greek yogurt
2 tablespoons honey or pure maple syrup
2 tablespoons chopped unsalted almonds
1/2 cup finely chopped mango
1/2 cup blueberries
1/4 cup blackberries or raspberries, chopped if large
Directions
In a medium bowl, whisk together the yogurt and honey until combined.
Line a 13 x 9 x 2-inch baking dish with parchment paper. Using a spatula or knife, spread the yogurt mixture over the paper as thinly as possible.
Sprinkle the almonds over the yogurt mixture. Using your fingertips, gently press the almonds into the yogurt mixture.
Sprinkle the mango, blueberries, and raspberries over all. Using your fingertips, gently press the fruit into the yogurt mixture.
Cover the dish with plastic wrap or aluminum foil. Freeze overnight.
At serving time, remove the baking dish from the freezer. Gently lift the parchment paper from the dish and transfer to a cutting board. Using your hands, break the bark into pieces (or you may need to hit it lightly on the surface of the cutting board). It's best to eat the bark immediately. It begins to melt 15 minutes after being removed from the freezer.
Cooking Tip: Any leftover bark can be wrapped in parchment paper, put in a resealable plastic freezer bag, and frozen for up to one month.
Keep it Healthy: Most fruits can be used to make this bark, from pomegranate arils (seeds) in the fall to diced peaches in the summer.
Tip: For different variations, try shredded unsweetened coconut, sunflower or pumpkin seeds, and/or chopped pecans or walnuts.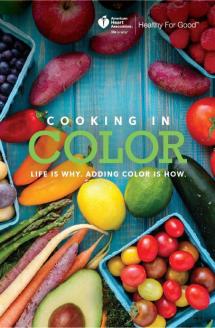 Cooking in Color
This digest-size recipe booklet includes 27 healthful recipes, all including fruits, vegetables, or both. Each recipe is accompanied by a vibrant photograph, and the recipes are organized by color. Also included is a fruit/veggie storage guide and a fruit/veggie equivalency guide.
Shop Heart
Copyright © 2018 American Heart Association, Healthy for Good™. Every purchase helps fund the work of the AHA/ASA.