This dish can feature any pasta variety—from angel hair to shells to penne.
Nutrition Facts
Pot Roast Ratatouille and Pasta - Delicious Decisions

Calories
258 Per Serving
Protein
26g Per Serving
Fiber
6g Per Serving
Nutrition Facts
×
Calories
258
Total Fat
3.0 g
Saturated Fat
1.0 g
Trans Fat
0.0 g
Polyunsaturated Fat
0.5 g
Monounsaturated Fat
1.5 g
Cholesterol
40 mg
Sodium
76 mg
Total Carbohydrate
32 g
Dietary Fiber
6 g
Sugars
7 g
Protein
26 g
Dietary Exchanges
1½ starch, 2 vegetable, 3 lean meat
Ingredients
olive oil spray
1 1/2 lb. eye-of-round roast (all visible fat discarded)
1/2 tsp. salt-free, all-purpose seasoning blend
1/4 tsp. pepper
10.75 oz. canned tomato puree
10 oz. eggplant (chopped)
2 medium zucchini (sliced)
5 medium Italian plum (Roma) tomatoes (chopped)
1 large onion (chopped)
2 medium ribs of celery, sliced
1 tsp. oregano or Italian seasoning, crumbled
1 medium garlic clove (minced)
1 medium dried bay leaf
1/4 tsp. dried basil (crumbled)
8 oz. dried, whole-grain pasta
Directions
Preheat the oven to 350°F. Lightly spray a Dutch oven with olive oil spray.
Sprinkle the roast with the seasoning blend and pepper.
Heat the Dutch oven over medium-high heat. Brown the roast for 2 to 3 minutes on each side.
Stir in the remaining ingredients except the pasta.
Bake, covered, for about 2 hours, or until the roast is very tender when tested with a fork.
Shortly before the roast is done, prepare the pasta using the package directions, omitting the salt. Drain well in a colander.
Transfer the roast to a cutting board. Cover with aluminum foil and let stand for 10 to 15 minutes before slicing very thinly across the grain, then slicing into thin strips. Discard the bay leaf from the sauce.
Spoon the pasta onto plates. Arrange the roast slices on the pasta. Top with the sauce.
Tip: For maximum tenderness, don't overcook eye-of-round roast, and be sure to cut it into thin strips.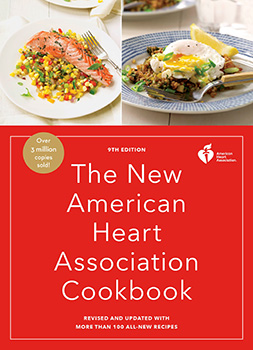 The New American Heart Association Cookbook, 9th Edition
The American Heart Association's flagship cookbook is back and better than ever. This latest edition, including 800 recipes from appetizers to desserts--and everything in between--is the ultimate cook's resource.
Sample Recipes:
Turkey Breast with Chicken Mole
Grilled Salmon with Cilantro Sauce
Purchase:
This recipe is reprinted with permission from The New American Heart Association Cookbook, 9th Edition. Copyright © 2017 by the American Heart Association. Published by Harmony Books, an imprint of Penguin Random House LLC. Available from booksellers everywhere.