Using pre-cut ingredients like sliced white mushrooms and a bag of frozen stir-fry mix makes this Simple Cooking with Heart recipe a cinch to put together in the morning before work.
Nutrition Facts
Slow Cooker Thai Chicken Soup

Calories
343 Per Serving
Protein
40g Per Serving
Fiber
4g Per Serving
Cost Per Serving
$1.14
Nutrition Facts
×
Calories
343
Total Fat
6.1 g
Saturated Fat
2.0 g
Trans Fat
0.0 g
Polyunsaturated Fat
0.9 g
Monounsaturated Fat
1.2 g
Cholesterol
97 mg
Sodium
382 mg
Total Carbohydrate
30 g
Dietary Fiber
4 g
Sugars
8 g
Protein
40 g
Dietary Exchanges
5 lean meat, 1 1/2 starch, 1 vegetable
Ingredients
2 lb. boneless large chicken breasts (aim for 2 breasts, 1 pound each)
14.4 oz. packaged onion and pepper stir-fry mix
16 oz. packaged white mushrooms
1/2 (13.5-ounce) can lite coconut milk
4 cups low-sodium chicken stock
2 Tbsp. lime juice
1/4 tsp. red hot chile flakes
1/4 tsp. salt
1/4 tsp. ground black pepper
10 oz. packaged, frozen peas
1/2 cups fresh basil or cilantro leaves
4 oz. roughly chopped, broken raw rice vermicelli noodles
Asian hot sauce like Sriracha, to serve, optional
Directions
Place chicken into the bottom of a large slow cooker. Add stir-fry mix and mushrooms on top of the chicken; pour coconut milk and chicken stock over the entire mixture. Cover with lid and let mixture cook on high heat for 4 hours or on low heat for 8 hours until chicken is tender.
When about to serve, turn the heat to high if it's on low. Use tongs to transfer chicken to a bowl. Into the slow cooker, stir in lime juice, chile flakes, salt, pepper, peas, basil, and vermicelli noodles, making sure the noodles are mostly submerged in the liquid. Cover slow cooker with lid and cook until noodles have softened, about 20 minutes.
Meanwhile, carefully transfer hot chicken to a cutting board and cut into bite-sized pieces. Stir back into the soup. Ladle soup into bowls and serve with hot sauce, if desired.
Cooking Tip: When using a slow cooker, make sure the ingredient that needs to be cooked the most (like meat) is placed on the bottom, closest to the heat source.
Keep it Healthy: While a little harder to find, substitute brown rice vermicelli for the rice vermicelli noodles if you can find them
Tip: Buying a container of already-squeezed lemon or lime juice is a more cost-effective way of using citrus juice in recipes versus freshly-squeezed juice.


Tip: Serving size 2 cups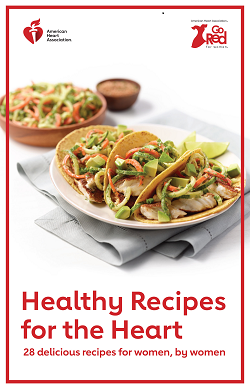 Healthy Recipes for the Heart
This digest-size recipe booklet contains 28 recipes, including Baked Flautas, Carne Asada with Chimichurri Sauce, Macaroni and Cheese with Spinach, Vegetable Migas, Jerk Tilapia Tacos with Zoodle Slaw, and Slow Cooker Thai Chicken Soup; blood pressure info and AHA recommended blood pressure levels; Blood Pressure Measurement Instruction infographic; an inspiring personal story shared by a GR Real Woman; full-color interior and photos; glossy cover; AHA dietary and lifestyle recommendations; Go Red Get Fit info; updated messaging and info about GRFW; and warning signs for heart attack and stroke.
Shop Heart