A refreshing citrus picnic salad with a mixture of strawberries, jicama, cucumber, jalapeno, and cilantro topped with a light dressing of lime juice, no-calorie sweetener, olive oil, and poppy seeds.
Nutrition Facts
Strawberry Jicama Cucumber Salad

Calories
130 Per Serving
Protein
3g Per Serving
Fiber
11g Per Serving
Cost Per Serving
$2.01
Nutrition Facts
×
Calories
130
Total Fat
4 g
Saturated Fat
0.4 g
Trans Fat
0.0 g
Polyunsaturated Fat
0.0 g
Monounsaturated Fat
0.0 g
Cholesterol
0 mg
Sodium
10 mg
Total Carbohydrate
24 g
Dietary Fiber
11 g
Sugars
8 g
Protein
3 g
Dietary Exchanges
1/2 fat, 1/2 fruit, 1 starch
Ingredients
2 cups strawberries (washed, hulled, chopped)
1 jicama (peeled, chopped)
1 medium cucumber (peeled, chopped)
1 small jalapeño, seeded, finely chopped (note: for more spice, leave the seeds and white membrane intact. For less spice, omit)
1 Tbsp. cilantro (finely chopped)
2 Tbsp. lime juice (fresh, or, from jar)
1 Tbsp. extra virgin olive oil
1 Tbsp. no-calorie sweetener (granulated, 1 1/2 packets)
1 tsp. poppy seeds
Directions
In a medium bowl, combine strawberries, jicama, cucumber, jalapeno, and cilantro. Toss lightly.
In a small bowl, whisk together lime juice, olive oil and no-calorie sweetener.
Add lime juice mixture to strawberry mixture and toss lightly.
Sprinkle with poppy seeds.
Tip: Serve chilled as a salad or paired with grilled chicken or pork.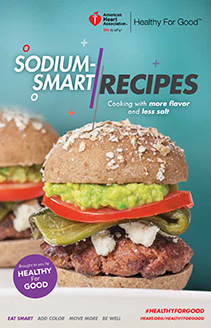 Sodium-Smart Recipes
This digest-sized booklet contains 28 recipes and photographs. It also contains information on how sodium affects overall health, a reference guide for sodium-free flavorings and provides American Heart Association's dietary recommendations.
Shop Heart