An avocado half is a healthy and attractive way to serve tuna salad — or other similar salads, too, such as egg or chicken.
Nutrition Facts
Tuna-Stuffed Avocados with Corn Salsa

Calories
273 Per Serving
Protein
19g Per Serving
Fiber
8g Per Serving
Nutrition Facts
×
Calories
273
Total Fat
16 g
Saturated Fat
2.5 g
Trans Fat
0.0 g
Polyunsaturated Fat
2.0 g
Monounsaturated Fat
10.0 g
Cholesterol
32 mg
Sodium
292 mg
Total Carbohydrate
18 g
Dietary Fiber
8 g
Sugars
5 g
Added Sugars
0 g
Protein
19 g
Dietary Exchanges
1/2 starch, 2 lean meat, 2 fat, 2 vegetable
Ingredients
Salsa
2 medium ears of corn, husks and silk discarded, kernels cut off

OR

1 cup frozen corn, slightly thawed
1 tablespoon water
1 medium tomato, chopped
1/2 cup chopped fresh cilantro
2 tablespoons finely chopped red onion
2 tablespoons fresh lime juice, plus more if desired
1 tablespoon finely chopped fresh jalapeño, seeds and ribs discarded
Tuna
2 6.4-ounce pouches very low sodium chunk light tuna, packed in water, drained
1/2 cup chopped celery
1/3 cup fat-free plain Greek yogurt
1 tablespoon fresh lemon juice, plus more if desired
1/4 teaspoon pepper (freshly ground preferred)
Avocados
3 medium avocados
1 tablespoon fresh lemon juice
Directions
Put the corn in a microwaveable container. Add 1 tablespoon water. Microwave on 100% power (high) for 1 to 2 minutes, or until cooked through. Remove from the microwave. Let stand to cool.
In a medium bowl, stir together the remaining salsa ingredients. Stir in the corn. Let stand to allow the flavors to blend.
In a separate medium bowl, stir together the tuna ingredients. Stir in the salsa.
Halve the avocados. Remove the pits (if removing the pit doesn't create enough of a cup for the tuna, spoon out a bit of the avocado flesh). Sprinkle the inside of the avocado with the lemon juice to keep the flesh from turning brown.
Spoon the tuna mixture into the cavity of each avocado half, packing the tuna mixture tightly. Serve immediately or cover and refrigerate to serve chilled.
Cooking Tip: To remove the kernels from the cob without making a mess, invert a small bowl inside a large bowl. Stand the cob on the small bowl, and using a sharp knife, slowly slice down the cob, letting the kernels fall into the large bowl.
Tip: To ripen an avocado overnight, put the avocado in a paper bag with a banana. Seal it tightly.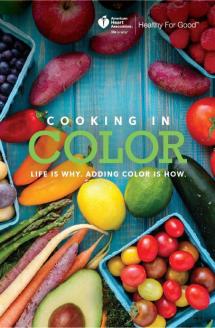 Cooking in Color
This digest-size recipe booklet includes 27 healthful recipes, all including fruits, vegetables, or both. Each recipe is accompanied by a vibrant photograph, and the recipes are organized by color. Also included is a fruit/veggie storage guide and a fruit/veggie equivalency guide.
Shop Heart
Copyright © 2018 American Heart Association, Healthy for Good™. Every purchase helps fund the work of the AHA/ASA.