Massaged Kale Salad
Unlike other greens such as spinach or Swiss chard, kale is sturdier and tougher. To get raw kale tender, this recipe's technique of massaging a salad dressing into the leaves works wonders, from Simple Cooking with Heart.
Ingredients
4 Servings

0.73
Price per serving

184
Calories per serving

0.9 g
Sat. Fat per serving

115 mg
Sodium per serving
View Full Nutrition Info
collapse
Quick Tips

Cooking Tip: Just a dab of mustard, like in this salad dressing, helps keep the oil and vinegar together in homemade dressings.

Keep it Healthy: Kale is a powerhouse when it comes to the amount of vitamins and minerals in it. Consider keeping a bag of frozen chopped kale on hand in the freezer; throw a few handfuls into soups or stews to increase the nutrition.

Tip: 1 (5-ounce) packaged container of chopped kale can be substituted for the 8 cups of kale. It's a little more expensive than buying in a bunch; however, no washing or chopping is required.
Directions
Tip: Click on step to mark as complete.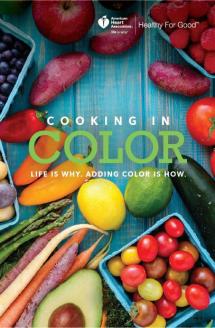 Like the Recipe? It and Many Others are Available in the Cookbook Below:
Purchase Cooking in Color
Copyright © 2018 American Heart Association, Healthy For GoodTM, heart.org/healthyforgood Every purchase helps fund the work of the AHA/ASA.
Calories
184
Total Fat
12.4 g
Saturated Fat
0.9 g
Trans Fat
0.0 g
Polyunsaturated Fat
4.0 g
Monounsaturated Fat
5.7 g
Cholesterol
4 mg
Sodium
115 mg
Total Carbohydrate
15 g
Dietary Fiber
3 g
Sugars
1 g
Protein
8 g
Dietary Exchanges
1 fat, 3 vegetable
Please sign in to add recipes to your Recipe Box.
Log In