Crunchy Cabbage Salad with Spicy Peanut Dressing
This addictive American cabbage salad side dish recipe from Simple Cooking with Heart has a zing from jalapenos along with a double-duty peanut power - a peanut butter-infused dressing and a sprinkling of peanuts throughout it. Serve for dinner or bring along for a cookout.
Ingredients
6 Servings
10 min
Prep time

1.02
Price per serving

123
Calories per serving

1.0 g
Sat. Fat per serving

169 mg
Sodium per serving
View Full Nutrition Info
collapse
Quick Tips

Tip: Serving size 1 cup

Cooking Tip: Jalapenos vary tremendously in spiciness. It's always safer to take a little taste of the jalapeno before adding the entire pepper. Also, remove the seeds to lessen the spiciness.

Keep it Healthy: This cabbage salad is like a slaw without the mayo. A vinegar and oil base instead of mayonnaise can also be used to trim the calories of other picnic salads like potato salad and macaroni salad.

Tip: To substitute fresh vegetables for the cole slaw mix, use 1 cup grated carrots plus 5 cups thinly sliced cabbage.
Directions
Tip: Click on step to mark as complete.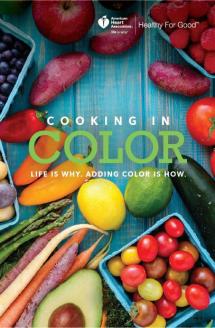 Like the Recipe? It and Many Others are Available in the Cookbook Below:
Purchase Cooking in Color
Copyright © 2018 American Heart Association, Healthy For GoodTM, heart.org/healthyforgood Every purchase helps fund the work of the AHA/ASA.
Calories
123
Total Fat
6.3 g
Saturated Fat
1.0 g
Trans Fat
0.0 g
Polyunsaturated Fat
1.8 g
Monounsaturated Fat
3.0 g
Cholesterol
0 mg
Sodium
169 mg
Total Carbohydrate
12 g
Dietary Fiber
4 g
Sugars
7 g
Protein
5 g
Dietary Exchanges
1 vegetable, 1/2 other carbohydrate, 1 fat
Please sign in to add recipes to your Recipe Box.
Log In