Apple Nachos
If you do the apple slicing, kids can get in on the action and assemble these nachos themselves. Use your favorite apple variety for this Simple Cooking with Heart snack or appetizer recipe or mix it up using a combination, like 2 sweet Red Delicious apples and 1 tart Granny Smith.
Ingredients
6 Servings

1
Serving size
12 min
Total time

1.32
Price per serving

167
Calories per serving

1.1 g
Sat. Fat per serving

66 mg
Sodium per serving
View Full Nutrition Info
collapse
Quick Tips

Cooking Tip: When using sticky substances like honey or peanut butter in a recipe, coat the measuring spoon or measuring cup with cooking spray for easier removal.

Keep it Healthy: Always opt for unsweetened dried fruit—the sweetened varieties contain too much unnecessary sugar.

Tip: The sky's the limit when it comes to toppings for these apple nachos: any dried fruit, chopped nuts, pumpkin seeds, granola, or unsweetened shredded coconut.
Directions
Tip: Click on step to mark as complete.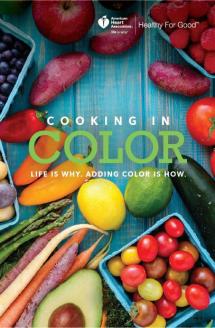 Like the Recipe? It and Many Others are Available in the Cookbook Below:
Purchase Cooking in Color
Copyright © 2018 American Heart Association, Healthy For GoodTM, heart.org/healthyforgood Every purchase helps fund the work of the AHA/ASA.
Calories
167
Total Fat
7.4 g
Saturated Fat
1.1 g
Trans Fat
0.0 g
Polyunsaturated Fat
2.5 g
Monounsaturated Fat
3.4 g
Cholesterol
0 mg
Sodium
66 mg
Total Carbohydrate
22 g
Dietary Fiber
4 g
Sugars
15 g
Protein
4 g
Dietary Exchanges
1 1/2 fruit, 1/2 lean meat, 1 fat
Please sign in to add recipes to your Recipe Box.
Log In