Frozen Yogurt Bark
This frozen yogurt bark studded with fruit is a fun treat for kids and adults alike. Just note to eat it as soon as pieces are removed from the freezer as it melts in about 15 minutes.
Ingredients
8 Servings

70
Calories per serving

0.7 g
Sat. Fat per serving

15 mg
Sodium per serving
View Full Nutrition Info
collapse
Quick Tips

Cooking Tip: The same amount of maple syrup or simple syrup can also be used to sweeten the bark in place of honey.

Keep it Healthy: Most fruits can be used for the bark, from pomegranate seeds in the fall to diced peaches in the summer.

Tip: Let your kids come up with more ideas on what to use to top the bark—shredded unsweetened coconut, sunflower or pumpkin seeds, any type of nut, or even a tablespoon of chocolate chips. If desired, mix 1/2 cup chopped fruit into the yogurt before adding the baking dish and then top again with fruit for a different spin on the same concept.
Directions
Tip: Click on step to mark as complete.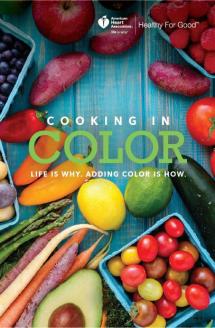 Like the Recipe? It and Many Others are Available in the Cookbook Below:
Purchase Cooking in Color
Copyright © 2018 American Heart Association, Healthy For GoodTM, heart.org/healthyforgood Every purchase helps fund the work of the AHA/ASA.
Calories
70
Total Fat
2.0 g
Saturated Fat
0.7 g
Trans Fat
0.0 g
Polyunsaturated Fat
0.3 g
Monounsaturated Fat
0.7 g
Cholesterol
3 mg
Sodium
15 mg
Total Carbohydrate
10 g
Dietary Fiber
1 g
Sugars
9 g
Protein
4 g
Dietary Exchanges
1/2 lean meat, 1/2 other carbohydrate
Please sign in to add recipes to your Recipe Box.
Log In