Here is a Simple Cooking with Heart pork dinner with some amazing sides that sound and taste so good, you won't believe that they're good for you too!
Nutrition Facts
Allspice-Rubbed Pork Tenderloin with Cinnamon-Sauted Apples and Cilantro Rice

Calories
315 Per Serving
Protein
24g Per Serving
Fiber
6g Per Serving
Cost Per Serving
$3.39
Nutrition Facts
×
Calories
315
Total Fat
6.0 g
Saturated Fat
1.5 g
Trans Fat
0.0 g
Polyunsaturated Fat
1.0 g
Monounsaturated Fat
3.0 g
Cholesterol
60 mg
Sodium
56 mg
Total Carbohydrate
43 g
Dietary Fiber
6 g
Sugars
20 g
Protein
24 g
Ingredients
For the Cilantro Rice
2 cups cooked brown rice

OR

16 oz packaged, cooked brown rice
1 cup chopped cilantro or parsley
2 green onions (chopped)
2 tsp lemon or lime juice
For the Pork Tenderloin:
1 lb pork tenderloin (all visible fat discarded)
1 tsp ground allspice
2 tsp extra-virgin olive oil, canola oil, vegetable or corn oil
1/4 tsp Black pepper
4 apples, (Granny Smith or any apples you like) cored, washed, thinly sliced
1/2 tsp ground cinnamon
Directions
For the Cilantro Rice:
Stir lime juice, cilantro, and green onions into warm rice.
For the Pork Tenderloin:
Preheat oven to 400 degrees F. Coat tenderloin with allspice and pepper.
Warm oil over medium-high heat in large pan. Add tenderloin and brown each side of tenderloin for about 1 minute each (about 4 minutes total).
Transfer pork to a baking dish, and cook in oven until pork has 145° F internal temperature, about 25 minutes.
Meanwhile, in the original pan, add apples and cinnamon. Cook over medium-high heat stirring constantly until apples are soft, about 4 to 5 minutes. Take off heat.
Let pork rest for a few minutes. Slice into pieces and serve with apples on top.
Cooking Tip: Letting meat like pork or beef rest for a few minutes when it comes out of the oven allows the meat to keep more of its juices.
Keep it Healthy: Fruit isn't just for breakfast or snacks but can be part of dinner like in this recipe. Cooked pears or apples are great side dishes to meat, pineapple chunks make excellent fruit salsas, and oranges go great in salad.
Tip: Double the pork tenderloin and use the leftovers to make Jerk Pork Sandwiches. Just chop the pork into small pieces and coat with the jerk spices.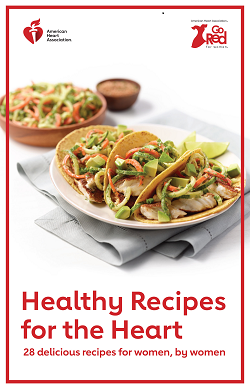 Healthy Recipes for the Heart
This digest-size recipe booklet contains 28 recipes, including Baked Flautas, Carne Asada with Chimichurri Sauce, Macaroni and Cheese with Spinach, Vegetable Migas, Jerk Tilapia Tacos with Zoodle Slaw, and Slow Cooker Thai Chicken Soup; blood pressure info and AHA recommended blood pressure levels; Blood Pressure Measurement Instruction infographic; an inspiring personal story shared by a GR Real Woman; full-color interior and photos; glossy cover; AHA dietary and lifestyle recommendations; Go Red Get Fit info; updated messaging and info about GRFW; and warning signs for heart attack and stroke.
Shop Heart