In addition to providing protein for this entrée soup, tofu contributes to its creaminess. Serve it at home as an entrée, tote it to work for a satisfying lunch, or serve small portions as a starter course for dinner with friends.
Nutrition Facts
Curried Pumpkin Soup

Calories
188 Per Serving
Protein
14g Per Serving
Fiber
7g Per Serving
Nutrition Facts
×
Calories
188
Total Fat
5.0 g
Saturated Fat
0.5 g
Trans Fat
0.0 g
Polyunsaturated Fat
2.0 g
Monounsaturated Fat
1.5 g
Cholesterol
3 mg
Sodium
202 mg
Total Carbohydrate
25 g
Dietary Fiber
7 g
Sugars
17 g
Protein
14 g
Dietary Exchanges
1 starch, 1/2 fat-free milk, 1 lean meat
Ingredients
1 teaspoon olive oil
1/4 cup chopped shallots
2 cans pumpkin (not pie filling)
2 cups fat-free, low-sodium vegetable broth
12 ounces light, firm tofu (drained, patted dry, chopped)
1 can fat-free evaporated milk
2 tablespoons pure maple syrup
2 teaspoons curry powder
1/4 teaspoon salt
1/8 teaspoon cayenne (optional)
1/4 cup unsalted shelled pepitas (pumpkin seeds), dry-roasted
2 tablespoons chopped, fresh cilantro
Directions
In a large saucepan, heat the oil over medium-low heat, swirling to coat the bottom. Cook the shallots for 2 to 3 minutes, or until soft, stirring occasionally.
Stir in the pumpkin, broth, tofu, milk, maple syrup, curry powder, salt, and cayenne.
In a food processor or blender (vent the blender lid), process the soup in batches until smooth. Carefully return the soup to the pan.
Cook, still over medium-low heat, for 20 to 30 minutes, or until the soup is heated through, stirring occasionally.
Just before serving, sprinkle with the pepitas and cilantro.
Cooking Tip: On the Pepitas: Popular in Mexican cooking, pepitas are small green pumpkin seeds without the hull. Look for them in the Hispanic section of the supermarket.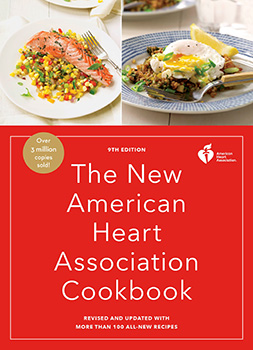 The New American Heart Association Cookbook, 9th Edition
The American Heart Association's flagship cookbook is back and better than ever. This latest edition, including 800 recipes from appetizers to desserts--and everything in between--is the ultimate cook's resource.
Sample Recipes:
Turkey Breast with Chicken Mole
Grilled Salmon with Cilantro Sauce
Purchase:
This recipe is reprinted with permission from The New American Heart Association Cookbook, 9th Edition. Copyright © 2017 by the American Heart Association. Published by Harmony Books, an imprint of Penguin Random House LLC. Available from booksellers everywhere.